JetMaster Photo Wrap – from Innova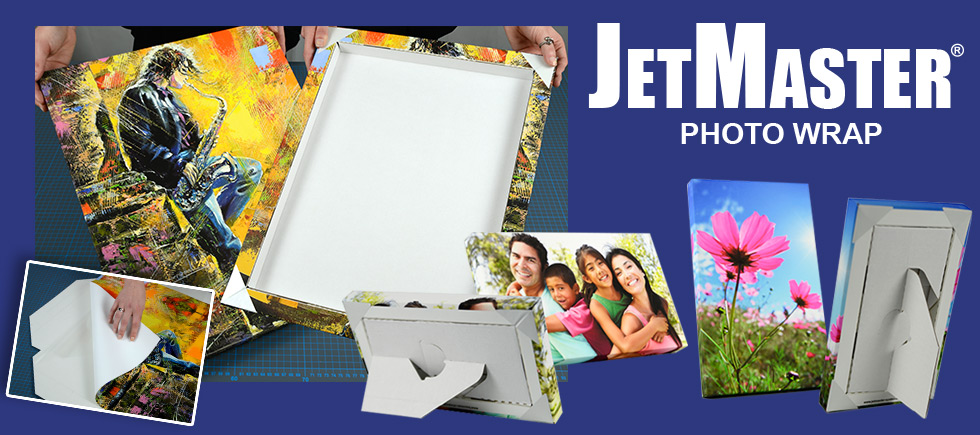 JetMaster Photo Wrap: Gallery Wraps in Minutes
The biggest seller in today's art and décor markets is the gallery wrap: stand-out images for the home and office, in-store displays and trade fair stands. Assembling a stretched canvas require specialist skills and time but with JetMaster everything can be wrapped up in minutes. The JetMaster base is a pre-cut, pre-laminated corrugated board. Press your print down and smooth, fold in the edges of the board  – and hang. No bubbles, no untidy corners, no staples and no hooks. A fully assembled JetMaster gallery wrap is so light it can be hung from just one tack. Remember, JetMaster boards are made from mostly recycled content and are fully recyclable. The sturdy corrugated board construction ensures prints don't bow or sag over time.

---
How it Works

Step 1: Start by preparing your 8.5×11″ printed image and the JeMaster frame. Use 'canvas matte' or similar media setting in your printer driver.

Step 3: Position the image taking care to align it correctly with the first set of perforated edges. Then press it to the exposed adhesive.

Step 4: Turn JetMaster over and apply pressure across the entire surface area to ensure uniform contact between the print and the adhesive.

Step 6: Fold the precut flaps inward to create the side section of the frame. Press the adhesive side section and tabs firmly down.

Step 10: Take the backing board and fold the edges to create a box. Place the box in the back of the frame, sticking the edges to the exposed adhesive.
---


---
Features
Stylish, professional finish
Sturdy and lightweight materials
Perfect corners every time
Tough corrugated card backing prevents sagging
Moisture resistant
Fully protected flame retardant material
Environmentally friendly and fully recyclable
Studio tips
Conventional inkjet canvases can take hours to dry before they can be stretched. Use our specially developed JetMaster media, which is ready to affix and fold immediately after printing.
Available sizes
Sizes listed indicate the size of print required for the JetMaster Photo Panel, finished panels will be slightly smaller than these dimensions.
---